Eugene Butikov personal page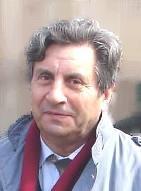 Contents
---
---
Click here to open the list of selected publications in Russian
---

Computer Simulations (Java applets)
---
PLANETS AND SATELLITES. The simulation programs of the package are intended to help students learn and understand the fundamental laws of physics as they apply to the charming world of natural and artificial celestial bodies restlessly moving in space. The programs illustrate Kepler's laws, trajectories in velocity space, properties of various families of orbits, evolution of an orbit in the atmosphere, active maneuvers in space and relative motions of orbiting bodies, precession of an orbit, motions of a binary star components, and much more. The most fascinating phenomena are revealed in investigating the motions of three or more bodies. Among these are a satellite orbiting a planet that is orbiting a star; a planet in a double-star system; and several planets orbiting a single star. The simulations show how the systems that obey simple physical laws can behave in irregular, chaotic ways. The programs illustrate also possible quite simple motions of celestial bodies described by exact solutions to the three-body problem. The software allows the students to construct and investigate a model of the solar system, or to create an imaginary planetary system on their own – complete with the star, planets, moons, comets, asteroids, and satellites, and to explore their orbital motion governed by the gravitational forces. In this wonderful space laboratory we can even reproduce such a possible heavenly catastrophe as a binary encounter of stars which is especially interesting if the stars have planetary systems. For example, the approaching "intruder star" can capture a planet from the system, or even the stars can exchange planets during their rendezvous in space. The package PLANETS AND SATELLITES includes a detailed 176-page User's Manual that gives a theoretical background and suggests students' activities. The manual contains about a hundred of problems. The package PLANETS AND SATELLITES is the 10th Annual Educational Software Contest winner (1999, Computing in Science and Engineering magazine), European Academic Software Award winner (EASA'2004). Version 3.0 (2004) is optimized for computers running under MS Windows XP operating system. To install the package on your machine, download the file Planets.zip (7.4 MB), unzip it in a folder on your computer, and run the standard setup procedure (launch the file setup.exe).
PHYSICS OF OSCILLATIONS. The package includes a set of highly interactive programs that allow the user to observe the simulations of simple mechanical oscillatory systems, and obtain time-dependent graphs of the variables that describe the simulated system, phase diagrams and graphs of energy transformations. Graphs and diagrams appear on the screen simultaneously with the display of motion. The suggested experiments have been designed to be plain and obvious. The user can widely modify parameters of the investigated physical systems and conditions of the experiments. The simulations bring to life many abstract concepts related to the physics of oscillations. The package PHYSICS OF OSCILLATIONS includes a 160-page User's Manual that gives a theoretical background for the simulated mechanical systems and suggests students' activities. The manual contains hundreds of problems and exercises. A 95-page Instructor's Guide gives details of their solutions. The package is the European Academic Software Award winner (EASA'96), Ninth Annual Educational Software Contest winner (1998, Computers in Physics magazine). To install the package on your machine (MS Windows OS), download the file MasterDiskOsc.zip (7.3 MB), unzip it in a folder on your computer, and run the standard setup procedure (launch the file setup.exe).
---
E-mail:
Address: Department of Physics, St. Petersburg State University
Uljanovskaya st. 1, Petershoff
198504 St. Petersburg, Russia
Web address: http://www.ifmo.ru/butikov
Phone: (812) 542 37 63, Fax: (812) 232 43 18
---
Graduated from St. Petersburg (former Leningrad) State University in 1962 (Department of Physics). Presently I am full professor of general physics at St. Petersburg State University and St. Petersburg Institute of Fine Mechanics and Optics. I give lecture courses on general physics, optics, quantum theory of solids, theory of oscillations. I have written several textbooks on physics used widely in Russia.
My research work is associated with solid state physics (quantum theory of electronic paramagnetic resonance, theory of Josephson effects in weak superconductivity), theory of nonlinear oscillations. Several new complicated and even counterintuitive modes of regular and chaotic behavior have been discovered recently in parametrically excited simple nonlinear systems with the help of computer simulations. I have succeeded in finding clear physical explanations for some of these modes, and in a theoretical determination of their boundaries in the parameter space.
---
During the last years I devote much time and effort to developing (and using in practice) interactive educational software for university-level physics students. My software is a kind of desk-top laboratory in which computer is used as a universal research instrument for investigating models of physical systems rather than simply as a convenient means to search and display information.
Presently two my packages of simulation programs ("Physics of Oscillations" and "Planets and Satellites") with tutorials are published and distributed by American Institute of Physics (Physics Academic Software Publishers). With these packages, I try to change a bit the traditional paradigm of teaching physics at Universities. My students do most part of the work on their own, using detailed manuals with assignments, which suggest them certain activity for exploratory usage of the simulation programs. Their work on the assigned projects is a model of a real scientific research.
---
Last revised: 10. 11. 2014